Country Club Tennis
Ongoing Events
Players should call Glenview Tennis at 753-1317 and sign up in advance for Round Robins.
HACIENDA HILLS TENNIS COURTS

Summer Junior Tennis Academy

June 12 - August 4
Monday - Friday, 11 AM to 1 PM
Coached by Mark Davis, varsity tennis coach at The Villages Charter School
Fee:$90/week
Call the Glenview Tennis Center for more information - 753-1317
GLENVIEW TENNIS CLUB

New to Tennis Clinics

Every Tuesday from 8:30am - 9:30am. This clinic is for beginners to 3.0 players, or for people that just haven't played for a while. Fee is $10 per 1 hour session. Please contact the tennis center for more information. 352-753-1317
GLENVIEW TENNIS CLUB

Round Robins

Monday: 3:30pm and 6pm

Wednesday: 3:30pm

Thursday: 11:30am

Friday: 3:30pm and 6pm
Country Club Tennis
Glenview Champions Tennis Club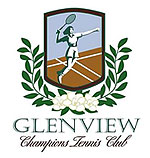 Glenview Champions Tennis Club – This is your headquarters for country club tennis in The Villages. Located at the west end of El Camino and off Buena Vista Boulevard north, the soft courts are just up from the beautiful, brick bridged entrance to Glenview Country Club on Glenview Road.
Voted as the Tennis Facility of the Year, by Tennis Industry Magazine, Glenview offers six, world class, hydro-grid, soft, clay courts, lockers and showers and a magnificent swimming pool and jacuzzi in the shape of a tennis racket. Glenview Tennis also schedules the soft courts at Nancy Lopez Legacy and Hacienda Hills Country Clubs.
If you are looking for some great tennis action, please call or come by Glenview Champions Tennis Club. There, you will find a full service tennis pro shop, walk in doubles for men and women, tennis lessons and clinics, round robins, leagues and tournaments, monthly socials and plenty more. Call (352) 753-1317 and ask our friendly staff for information or directions.
The Glenview Champions Tennis Pro shop, has a warm atmosphere, with top names in apparel & equipment from Wilson, Prince, and Tail
[ Go back ]