Championship Golf Courses
Upcoming Events
Hacienda Hills - Staff

Kevin Sackville
PGA Professional
Hometown: Scarborough, Maine
I had the privilege to join The Villages golf management team in October of 2013. Prior to my arrival, I worked in the golf, sports complex and retail facility management industry. Relocating to The Villages from the Boothbay Harbor Golf Club on the Downeast coast of Maine, I also spent numerous years as a golf professional at various Marriott Hotel golf resort properties throughout the country, managed a year round ice arena and worked for the leading outdoor sporting gear retailer, LL Bean. My wife Cherie and I have two children, Caitlin and Hunter. I enjoy golf, ice hockey and am an avid outdoorsman with a passion for upland hunting and extended backcountry hiking trips. As the head golf professional at Hacienda Hills and Tierra Del Sol Golf & Country Clubs I look forward to serving you at both locations and welcome you to stop in and say hello anytime.

Judy Garrette
Golf Staff Supervisor - Inside
Hometown: Massachusetts
I moved to The Villages in December 2002 from Massachusetts where I have always resided. After three years of playing golf and enjoying The Villages lifestyle, I decided to go back to work. I worked at Target for one year and came to work for GMS in November of 2006 as a Sales Associate for Hacienda Hills. I moved up to a roving Assistant Manager for Hacienda Hills, Orange Blossom, and Tierra Del Sol in September of 2010. An opportunity came up to be Assistant Manager at Hacienda Hills in April 2011 and this is where you can find me Wednesday through Fridays. For relaxation I enjoy golfing, bowling and lounging by my pool with a good book.

Kal Kalieta
Golf Staff Supervisor - Inside
Hometown: Bufalo, New York
Kal and his bride Katie are originally from Buffalo, NY. Kal's career had been in Information Technology, overseeing data processing for major Northeast banks. After moving to Florida, he designed and managed communications network for a startup credit card processor for 10 years. For the past 14 years, Kal & Katie owned and operated a Bed & Breakfast in St. Augustine, FL. Kal & Katie live happily in The Villages of St. Charles with their feline children.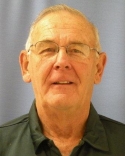 Don Johnson
Golf Staff Supervisor
Hometown: New Jersey
Hello, my name is Don Johnson - No not the Miami Vice guy. I moved to the Villages in 2004. Before that I had a Domino's Pizza franchise in New Jersey for almost 30 years. We have 4 children in New Jersey, Florida, Pennsylvania and Texas. We also have 8 grandchildren. I worked at Havana on the outside staff for 3 years, but had to go back up north for personnel reasons. Since my return I have been on the inside staff at Hacienda Hills for 4 years and was delighted to become a Hybrid Assistant Manager here.
I'm looking forward to serving the Guests at Hacienda Hills for many years to come.

Jimmy Lee Bozeman
Golf Staff Supervisor - Outside
Hometown: Mineral Wells, Texas
I was born in Mineral Wells, TX on December 18, 1951. My wife Renee and I have three children and three grandchildren. My profession was in construction just about all of my life. For the last five years before retirement, Renee and I were involved in mission work with YWAM (Youth With A Mission), traveling around the country, as well as Guatemala and Kazakhstan, constructing Aquaponics systems (a self-sustainable system that grows plants in water with fish).
I love playing golf, baseball and most sports; and Renee and I are certainly enjoying the Villages lifestyle.

Curt Law
Golf Staff Supervisor - Outside
Hometown: Kettering, Ohio
Curt and his dance & golf partner, Ronna, live in the Village of Lynn Haven. They moved from Kettering, Ohio in August 2004. They celebrated their 40th wedding anniversary, this past April. In addition to playing golf, both enjoy ball dancing. Curt and Ronna have two daughters (Debbie and Donna), one son (Matt), four granddaughters and one grandson. Curt retired from Bridgestone/Firestone with 38 years of service in various managerial positions and worked as a starter at Hacienda Hills the past four years.

Judy Davis
Facility Inventory Coordinator
Hometown: Somewhere in Maine
Judy Davis moved to The Villages in the fall of 2010 from Maine where she had always resided. She graduated from the University of Southern Maine with a degree in Elementary Education. Her jobs and careers spanned many areas from restaurant/catering business management and owner, retail sales, home based travel agent, and Educational Technician in kindergarten and first grades. She has two children and four grandchildren that all still live in Maine. Her daughter Jennifer, is a junior at the University of So. Maine in Portland. Her son Ryan, is a grounds keeper at the Black Point Country Club in Scarboro, Maine. She has many varied interests including cooking, gardening, water painting, arts and crafts, traveling, playing pickleball, and learning to play golf. Judy is very happy with her move to Florida and The Villages. She has acclimated herself to the beautiful environment and friendly people. She does not miss Maine winters!!