Championship Golf Courses
Upcoming Events
Hacienda Hills - Staff

Kevin Sackville
Golf Professional
Hometown: Scarborough, Maine
I had the privilege to join The Villages golf management team in October of 2013. Prior to my arrival, I worked in the golf, sports complex and retail facility management industry. Relocating to The Villages from the Boothbay Harbor Golf Club on the Downeast coast of Maine, I also spent numerous years as a golf professional at various Marriott Hotel golf resort properties throughout the country, managed a year round ice arena and worked for the leading outdoor sporting gear retailer, LL Bean. My wife Cherie and I have two children, Caitlin and Hunter. I enjoy golf, ice hockey and am an avid outdoorsman with a passion for upland hunting and extended backcountry hiking trips. As the head golf professional at Tierra Del Sol, Hacienda Hills and Orange Blossom Hills, I look forward to serving you at these locations and welcome you to stop in and say hello anytime.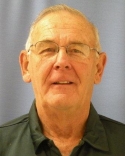 Don Johnson
Golf Staff Supervisor
Hometown: New Jersey
Hello, my name is Don Johnson - No not the Miami Vice guy. I moved to the Villages in 2004. Before that I had a Domino's Pizza franchise in New Jersey for almost 30 years. We have 4 children in New Jersey, Florida, Pennsylvania and Texas. We also have 8 grandchildren. I worked at Havana on the outside staff for 3 years, but had to go back up north for personnel reasons. Since my return I have been on the inside staff at Hacienda Hills for 4 years and was delighted to become a Hybrid Assistant Manager here.
I'm looking forward to serving the Guests at Hacienda Hills for many years to come.

Jimmy Lee Bozeman
Golf Staff Supervisor
Hometown: Mineral Wells, Texas
I was born in Mineral Wells, TX on December 18, 1951. My wife Renee and I have three children and three grandchildren. My profession was in construction just about all of my life. For the last five years before retirement, Renee and I were involved in mission work with YWAM (Youth With A Mission), traveling around the country, as well as Guatemala and Kazakhstan, constructing Aquaponics systems (a self-sustainable system that grows plants in water with fish).
I love playing golf, baseball and most sports; and Renee and I are certainly enjoying the Villages lifestyle.

Joel Bornhorst
Golf Staff Supervisor
Hometown: Akron, Ohio
Raised, lived, attend school, and worked in the Akron area most of my life.. Owned and operated an Electrical Contracting Company and Property Management business. Retired in 2005 came to The Villages looking to buy a home, when Katrina hit New Orleans. I was asked to go to New Orleans as a first responder construction consultant where I spent 3 years full time and 9 years part time. Made The Villages my home of record in 2008. I started at Tierra del Sol in 2012 as inside sales, later as the roving assistant manager and currently as Staff Supervisor Inside. I have always worked the weekend. I enjoy working with the staff here at TDS welcoming guests to our great golf course. I have 5 children scattered around the US. Served in the United States Army. Currently Living and Loving the Lifestyle of The Villages.

Leslie Ellis
Golf Staff Supervisor
Hometown: Woonsocket, Rhode Island
Leslie moved from Rhode Island to The Villages as a full time resident in 2015. She has worked for the golf division as a championship/ executive starter and ambassador and currently serves our golfers as the inside Assistant Manager of Tierra Del Sol. Prior to coming to The Villages, Leslie worked as an educator and school administrator in Las Vegas, Nevada and Rhode Island.

Randall Foco
Golf Staff Supervisor
Hometown: Sandusky, Michigan
Randall moved from Michigan about four years ago to become a full time resident of The Villages. He has worked for The Villages Golf Division a little over three years as a cleaner/ambassador/starter and currently serves The Villagesí golfers as a staff supervisor at Tierra Del Sol. Randallís work history includes the U.S Navy and working in the mental health and hospice care systems while living in Michigan.