The Villages Golf Academy
Upcoming Fitting Days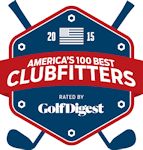 The Villages Golf Academy
Fittings
There are many factors involved when measuring a golfer for golf clubs that fit them correctly. We are not all built the same way: tall people/short people, long arms/short arms, fast swings/slow swings, big hands/small hands are a few of the ways that we differ. So, how can we all use the same clubs? The answer is we can't, and that is why we offer individual component and full golf club fittings.
Here's a list of the different factors that we measure for to make sure you are getting the best fit club for you:
Shaft Length
Shaft Flex
Lie Angle, Grip Size and Style
Graphite or Steel Shafts
Head Design (straight, offset, closed)
We have state-of-the-art equipment for fitting our customers, including Trackman, Foresight and Flight Scope Launch monitors. These measure distance, ball trajectory, swing speed and shaft type. We offer unique fitting experiences that are not available in other parts of the country. The additions of our Callaway Fitting Studio will allow you to experience the same technologies offered to touring professionals.
Club Fitting:
Conducted by one of our PGA or LPGA Instructors. This will help you optimize your current golf swing!
These are the types of fittings that are offered:
Individual Component – 30 Minutes
New to Golf Fitting – 30 Minutes
Full Club Fitting – 60 Minutes