The Villages Golf Academy
Upcoming Academy Events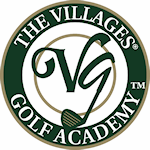 The Villages Golf Academy
There's no time like the present to achieve your dreams of playing better golf!
The Villages Golf Academy, through its courteous and knowledgeable staff of PGA and LPGA instructors, offers a variety of Private and Group instruction for golfers of all ages and skill levels. Whether you are New to Golf or an established player, the Villages Golf Academy has an instructional program just for you!
Since each golfer has different skills, physical abilities and golf related goals, we believe it is imperative to treat each of our students as an individual. A golfer should not have to revamp every aspect of their game in order to play better. They should merely work on the areas of their game that will provide them the greatest opportunity for improvement!
The staff of The Villages Golf Academy wants to help you with your game. We are centrally located in The Villages and are cart accessible. Give us a call at (352) 259-8121 or (352) 259-2077 to schedule an instructional session with one of our experienced instructors and see why we are the place to