Custom Club Shop
Vendor Links
Upcoming Fitting Days
Custom Club Shop
Fittings
There are many factors involved when measuring a golfer for golf clubs that fit them correctly. We are not all built the same way: tall people/short people, long arms/short arms, fast swings/slow swings, big hands/small hands are a few of the ways that we differ, so how can we all use the same clubs? The answer is we canít, and that is where we come in!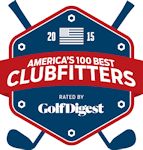 Hereís a list of the different factors that we measure for to make sure you are getting the best fit club for you:
Shaft Length
Shaft Flex
Shaft Kick point
Loft
Lie Angle
Grip Size and Style
Graphite or Steel Shafts
Optimal Head Design
Our Instruction/Fitting Bays are each branded by the top manufacturers of golf equipment including Callaway, Taylormade, Ping, Cobra, Cleveland/Srixon/XXIO, Mizuno, Tour Edge, and Titleist. Each bay is equipped with a launch monitor that captures key aspects such as spin rate, launch angle, ball speed, club head speed and more. This information is used by the fitter to dial in your specs to recommend the best equipment for you!