Custom Club Shop
Vendor Links
Upcoming Fitting Days
Custom Club Shop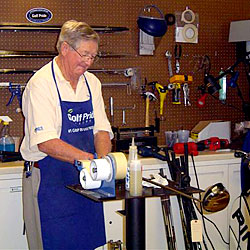 Repairs
We offer a wide range of services in our repair shop:
Regripping: We have a large selection of different styles of grips to choose from, and we usually have them ready the same day.
Reshafting: We carry many different styles of shafts and if we donít have what you need we can get it within a day or two.
Loft/Lie Adjustments: We have the ability to retrofit your current clubs lofts and lies to make them better suited for your swing.
Shaft Extensions and Cut Downs: We also can adjust the length of your clubs to make them longer or shorter depending on your needs.