Championship Golf Courses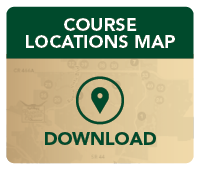 Championship Golf
Once a resident of The Villages, you are automatically a member at all of our country club facilities. Each offers a fully-stocked golf shop, well-maintained and challenging golf courses and a staff that is hometown friendly. There are no dues or minimums to pay. No initiation fees. Just choose the course you would like to play through our tee time reservation system and pay the appropriate greens fee each time you play (there is no additional charge to use your personal golf car on the Championship Courses). It's as easy as that
These courses are considered semi-private facilities with fee structures designed to be affordable for Villages residents.
Please select a course on the upper right to learn more.
Men's and Ladies Day
Tuesday is Men's Day and Wednesday is Ladies Day at most of the Championship courses. These events are fun and a great way to meet friends. You must be a priority member of the club you wish to play and a current Villages GHIN handicap membership is also required.
Men may register Tuesday through Thursday to play Tuesday of the following week. Ladies may register Tuesday through Thursday to play Wednesday of the following week. An entry fee of $2.00 is paid at the time of play. Payment must be in the form of cash.. Prize money is awarded in Golf Shop Credit. Learn more about the The Villages Golf Shop Credit System. Format for play varies from week to week and is usually a different event at each course. Registration to play may be done through the Tee Time System, either by telephone or utilizing www.thevillages.net.
Tournament Guidelines and Booking
Due to the demand of tee times for golf in The Villages, the majority of tournaments and events are scheduled between May 1st and September 30th. If you would like to host a tournament or event in The Villages, here are the guidelines we use:
In early October, we first establish the maintenance schedule on the courses before we book any tournaments. This is to ensure your event is not affected by maintenance practices such as greens aerification.
Beginning on, or around October 15th, already established tournaments are given the first opportunity to book the same 'like' date (i.e.; 2nd Saturday of May) for the upcoming year.
Beginning on, or around November 15th, we will accept requests for new tournaments through the Head Golf Professional of the golf course you wish to host the event. Request and dates will be considered based on the maintenance schedule, conflicts with other tournaments and ample tee time availability for our residents.
The above is subject to change.