The Villages Golf Academy
Upcoming Academy Events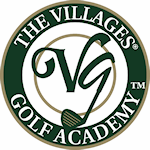 The Villages Golf Academy
Group Lesson Program
Our Group Lesson Program is designed to help you break those elusive 90 and 100 scoring barriers. You will become more consistent with your full swing and improve your touch around the green.
AimPoint - Aim & Speed Class
An Introduction to AimPoint Express Green Reading School
This two hour interactive class will help you to make more putts! Not only will you learn the five characteristics that all good putters possess; you will walk away with a game plan to develop them for yourself. Enrich your life and lower your scores!

AimPoint Aim & Speed Class includes:
2 hours of group instruction - 4:1 ratio
Have your putter aim laser checked and line of vision
Learn to control the distance you roll the ball
AimPoint Aim & Speed Class Manual
Villages Golf Academy Bag Tag

Private Groups (3-6 people)
60 Minutes of private instruction for your group
Friends and Family - (3-6 people)
Three 60-Minute Group Lessons
You set the time, the day and the instructor
Get your friends together and form a custom group
Expires 30 days from the date of purchase
Suggested Topics: putting, chipping, pitching, bunker play and full swing

To register for a program or to receive additional information please contact The Villages Golf Academy at (352) 259-8121 or (352) 259-2077.