The Villages Golf Academy
Upcoming Academy Events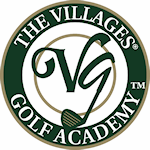 The Villages New to Golf Program
New to Golf School
Sarasota Golf Practice Center & Palmer Legends
Monday through Friday (5 days)
Our New to Golf Program is perfect if you have never played golf before or are coming back to golf. It will introduce you to the basics of putting, short shots around the green, full swing with an iron and wood plus a basic understanding of equipment, rules & etiquette.
The New to Golf School includes:
7½ Hours of Instruction - 6:1 ratio
New to Golf School Manual
New to Golf Bag Tag
Refresher Golf School
Sarasota Golf Practice Center & Palmer Legends
(Advanced Beginner to Intermediate)
Our Refresher Golf School is designed for the golfer coming back to golf after years of life and family commitments. It's also for the golfer who has been playing for awhile and wants to identify/review techniques to improve their game. Day one focuses on Short Game: putting and chipping. Day two will be on the Short Game, pitching and full swing with irons and woods with a review and evaluation of your current equipment. Day three will be on the course to identify game strengths and weaknesses.
The Refresher Golf School includes:
4&frac12 hours of group instruction
Short game instruction
Full Swing session w/irons and woods
Fairway bunkers
Equipment review/evaluation
On course session to identify game strengths & weaknesses
Refresher Golf School Manual
Villages Golf Academy Bag Tag
LPGA 101 Golf For Women School
Sarasota Golf Practice Center & Palmer Legends
LPGA Exclusive Program - conducted by Women for Women, provides student-centered LPGA Integrated Performance System to guide you through a comprehensive Welcome to Golf 6-module Program
1&frac12 hours of instruction Monday, Wednesday & Friday for 2 weeks ( 9 hours of total instruction)
Ideal for new or relatively new female golfers with some golf experience.
Final session is conducted on the golf course.
AimPoint Aim & Speed School
Sarasota Golf Practice Center
2 hours of instruction
Whether you are a beginner or experienced golfer this tour proven green reading technique will give you the easy to learn skills to expertly read the greens as well as help control distance and speed.
Wade's 4 Putting Elements
Palmer Legends
90 Minutes of Instruction
A practice system crafted to make certain that no personal best will ever be safe! Used by over 570 Touring Professionals Worldwide.
Set up, Path, Impact, Speed

To register for a school or to receive additional information please contact The Villages Golf Academy at (352) 259-8121 or (352) 259-2077.