Championship Golf Courses
Upcoming Events
CANE GARDEN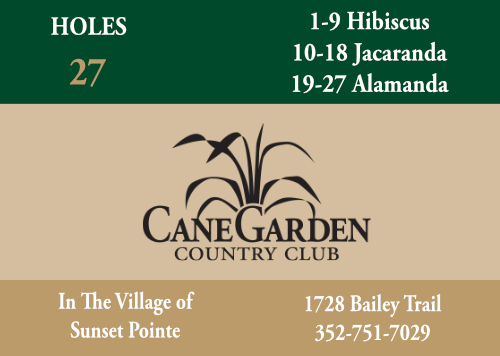 Cane Garden is one of Florida's most naturally beautiful courses where the pursuit of "Birdies" is equal to the time one might spend "Bird" watching. Twenty-seven holes are now available for play. The course features a magnificent hillside clubhouse surrounded by oak hammocks. The course plays around a 140 acre eagle preserve. From the fifth tee, one can gaze at central Florida's most prolific pair of bald eagles' nest! Be sure to also look out for the Southeast American Kestrel, a Falcon species, and Burrowing Owls. With teeing positions from 4,980 to 7,000 yards, every golfer should find a home in the natural settings of Cane Garden.
CANE GARDEN features:
Driving Directions
From Spanish Springs: - Take Morse Blvd South across HWY 466. Turn Right on Stillwater(0.5miles). Turn left(south) onto Buena Vista.(0.25miles) Turn right onto Bailey Trail(0.25miles) Entrance on Right
Click Here for Driving Directions
Scorecard
Click here for a downloadable scorecard in pdf format.