Championship Golf Courses
HAVANA - Restaurant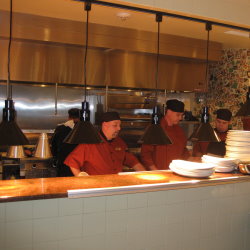 Phone: 352-430-3200
Hours of Operation:
Lunch 7 days a week: 11 to 3pm
Dinner Mon thru Thur and Sunday: 4 to 9pm Dinner Friday and Saturday: 4 to 9:30pm
Happy Hour: (TBD)
Come one and come all and let us take you back to "Old Town Havana"
As you finish your day on the links be sure to visit our truly special restaurant and allow us to transport you back to Old Town Havana. The Floribean Cuisine will tantalize your palate and keep you coming back for more. Whether it's an Original Cubano sandwich or a traditional dish backed with black beans and rice, the menu at the Havana Country Club restaurant will surprise and satisfy even the toughest of critics. The menu offers a variety of dining options ranging from appealing appetizers to your traditional Cuban meal. Please make sure that the clubhouse at Havana Country Club is one of your stops while you are at The Villages!
The Country Club Restaurant is always hopping with one of the best happy hours in The Villages and the connecting breezeway, the largest in The Villages, provides the perfect setting to sit and relax.